Chancellor's Scholarship
The Chancellor's Scholarship is the most academically competitive merit-based scholarship at Appalachian State University, designed for students with ambitious academic goals.
---
Chancellor's Scholars are provided with full institutional costs for up to 4 years (8 consecutive semesters), including tuition and fees, room and board, and book rental, plus study abroad opportunities, numerous classroom and experiential research opportunities and academic mentoring in the living–learning community of the Honors College. Typically, 10 recipients are awarded each year.

Deadlines
November 1 - Submit the application for admission
November 15 - Submit the Application for Signature Scholarships and Selective Academic Programs and submit all scholarship application materials including letters of recommendations.
Those chosen must have also be accepted into the Honors College. Students selected for interviews will be notified in early January.


Chancellor's Scholar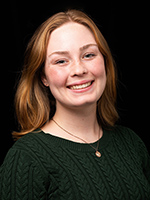 Emerson Phillips
Cary, North Carolina
"The Chancellor's Scholarship will allow me to be exposed to new perspectives on a variety of topics from both my peers and professors," said Phillips, a history/social studies education major in App State's Reich College of Education (RCOE).
RCOE "will help prepare me to be the best teacher I can be, as well as provide me with opportunities through research projects and student teaching that I might not find at other universities," she shared.
At Cary High School, Phillips served as vice president of the Executive Student Council and was an executive officer of the school's National Honor Society chapter, Key Club and Environmental Club. She was also a member of the color guard and varsity winter guard, as well as the debate team.