Dr. Willie C Fleming Scholarship
The Dr. Willie C. Fleming Scholarship is designed to support students from underrepresented populations, with selection based on their desire to promote cultural diversity.
In addition to covering full in-state tuition and fees for up to 8 semesters, the scholarship provides mentorship by alumni, the opportunity to participate in inclusivity-focused events, and networking and team building within each cohort of recipients.
Academic excellence is also a key qualifier for the applicants, and as members of the Appalachian Community, they are called on to speak publicly and assume the responsibility of leadership, scholarship and community involvement.

Fleming Scholar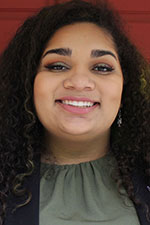 Gracie Staser, Apex NC
Staser plans to double major in political science–pre-professional legal studies and psychology–social science. "As a woman of color, I have always been interested in history and how the past affects society today," she said. "As a Flemings Scholar, I will have faculty mentors who will guide me in ways to best effect social change."
As a senior at Needham B. Broughton High School in Raleigh, Staser served as president of the school's Mock Trial Team and president and founder of its African American Student Association. She was the keynote speaker for the school's Youth Thrive event focused on mental health advocacy for minority youth and a senior leader for the school's Fellowship of Christian Athletes.