Dr. Willie C. Fleming Scholarship
The Dr. Willie C. Fleming Scholarship is designed to support students from underrepresented populations, with selection based on their desire to promote cultural diversity.
---
In addition to covering full in-state tuition and fees for up to 8 semesters, the scholarship provides mentorship by alumni, the opportunity to participate in inclusivity-focused events, and networking and team building within each cohort of recipients.
Academic excellence is also a key qualifier for the applicants, and as members of the Appalachian Community, they are called on to speak publicly and assume the responsibility of leadership, scholarship and community involvement.



Fleming Scholar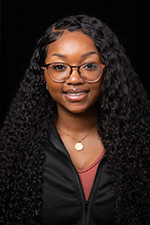 Zha'Monet Gray
Statesville, NC

Gray is a political science major and Spanish minor with plans to be an immigration lawyer following graduation. She is a member of the Yosef Club and has plans to study abroad in Spain to become fluent in Spanish.
"When I finish my time here at Appalachian State University, I want to say that I accomplished something that nobody else has here on campus," she said. "I want to find something that no other Black student might have done, or that no other female student might have done, and I want to be able to say that I, Zha'Monet Gray, have accomplished that. Whatever that might be."